Oklahoma Association for Supervision and Curriculum Development (OASCD) is a state affiliate of the Association for Supervision and Curriculum Development (ASCD).
OASCD Fall 2022 Conference
November 3, 2022
University of Central Oklahoma in the Nigh University Center Ballroom (3rd floor of the Nigh Center)
2ND Street & Garland Godfrey Drive, Edmond, OK  73034
Free parking east of Nigh University Center
Presented by Principal Baruti Kafele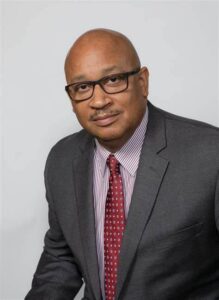 The Oklahoma Association for Supervision and Curriculum Development (OASCD) is proud to host Principal Baruti Kafele.
A highly-regarded urban educator in New Jersey for over twenty years, Principal Baruti Kafele distinguished himself as a master teacher and a transformational school leader. As an elementary school teacher in East Orange, NJ, he was selected as the East Orange School District and Essex County Public Schools Teacher of the Year, he was a New Jersey State Teacher of the Year finalist, and a recipient of the New Jersey Education Association Award of Excellence.
As a middle and high school principal, Principal Kafele led the turnaround of four different New Jersey urban schools, including "The Mighty" Newark Tech, which went from a low-performing school in need of improvement to national recognition, which included U.S. News and World Report Magazine recognizing it three times as one of America's best high schools.
One of the most sought-after school leadership and classroom equity presenters in America, Principal Kafele is impacting America's schools! He has delivered over two thousand conference and program keynotes, professional development workshops, parenting seminars and student assemblies over his 36 years of public speaking. An expert in the area of "attitude transformation," Principal Kafele is the leading authority for providing effective classroom and school leadership strategies toward closing what he coined, the "Attitude Gap."
A prolific writer, Principal Kafele has written extensively on professional development strategies for creating a positive school climate and culture, transforming the attitudes of at-risk students, motivating Black males to excel in the classroom, and school leadership practices for inspiring schoolwide excellence. In addition to writing several professional articles for popular education journals, he has authored twelve books, including his seven ASCD best sellers – Motivating Black Males to Achieve in School & in Life, Closing the Attitude Gap, Is My School a Better School BECAUSE I Lead It?, The Teacher 50, The Principal 50, The Assistant Principal 50 and his newest release, The Equity & Social Justice Education 50.
IMPORTANT: Visitor Parking at UCO has changed!
You will need the code above when they arrive, but not necessarily to park.  Once your car is parked, you will need to go to a pay station (there are multiple throughout the lot) and enter the code above.  If the code is not entered when you arrive, you will receive a parking ticket.
Parking Code: OASCD22