OASCD Fall 2018 Conference
October 31, 2018
University of Central Oklahoma in the Nigh University Center Ballroom (3rd floor of the Nigh Center)
2ND Street & Garland Godfrey Drive, Edmond, OK  73034
Free parking east of Nigh University Center
The Will to Lead, the Skill to Teach
Presented by Anthony S. Muhammad, Ph.D.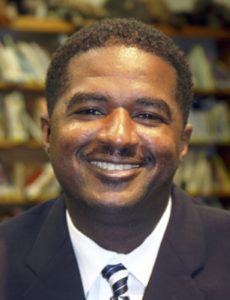 The Oklahoma Association for Supervision and Curriculum Development (OASCD) is proud to host Dr. Anthony Muhammad.
Anthony Muhammad is one of the most sought after educational consultants in North America.  He currently serves as the CEO of New Frontier 21 Consulting, a company dedicated to providing cutting-edge professional development to schools all over the world.  He served as a practitioner for nearly twenty years.  Dr. Muhammad served as a middle school teacher, assistant principal, middle school principal, and high school principal.  His tenure as a practitioner has earned him several awards as both a teacher and a principal.
Dr. Muhammad is recognized as one of the field's leading experts in the areas of school culture and organizational climate.  His work has allowed him to work with schools in all 50 U.S. states, 10 Canadian provinces, the Caribbean, South America, Europe, Australia, and New Zealand.
Dr. Muhammad is a best-selling author.  He is the author of the books Overcoming the Achievement Gap Trap (2015); The Will to Lead and the Skill to Teach; Transforming Schools at Every Level(2011); Transforming School Culture: How to Overcome Staff Division(2009); and a contributing author to the book The Collaborative Administrator: Working Together as a Professional Learning Community(2008).  He has published 26 articles in education journals and publications in seven different countries.
Intended audience: Teachers, Administrators, Instructional Coaches, School/District Leaders.
We hope you can join us!
OASCD will charge a flat-rate of $125 for conference registration. This rate will include conference registration, handouts, meals, parking, and a complimentary one-year membership with OASCD.
Invoices will be emailed to registrants after the conference.
Purchase orders can be emailed to OASCD
Check payments must be submitted via regular mail to:
OASCD
Post Office Box 773
Oklahoma City, Oklahoma 73101-0773